Even if you have a large family, chances are there isn't someone in every room of the house at all times. So why do you want to pay to keep all of those empty rooms cool or warm? Our certified technicians can help you significantly cut down your heating and cooling costs by adding zone control systems to your existing HVAC system.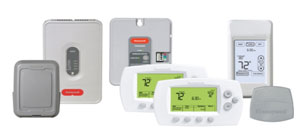 With a Honeywell Zone Control System, you can set different temperatures for different areas of your home and for different times of day. That way, you will always have a cool, comfortable space without having to run the heat or AC constantly throughout the entire house. Contact Burkee Climate Control today to find out more about zoning for your home.
Depending on the size of your home, you can divide it into however many zones makes sense for your family. Having the Honeywell zoning systems provide will not only make you more comfortable all year long; it can also save you up to 30% on your annual heating and cooling costs.
When the time comes to adding a zoning system to your home, trust that your comfort professionals at Burkee Climate Control have the knowledge and experience to get the job done right. We'll integrate zone control into your existing system or we can install it as part of a new system. Either way, you can be sure you're getting quality equipment installed properly the first time.
We offer Free Estimates On All Replacements, 24 Hour Emergency Service and Financing is always available!
Burkee Climate Control Inc.
Your Comfort Professionals
1534 W. Broad St. (Physical)
Po Box 1103 (Mailing)
Quakertown, Pa 18951
PA LIC #001031